| cooking time | Difficulty level | enough for |
| --- | --- | --- |
| 17 minutes | easy | 2 people |
WHOLE WHEAT FLOUR PIZZA
WHOLE WHEAT FLOUR PIZZA
How long have you been waiting for this recipe to hit the blog? The winning whole wheat pizza is homemade and loved by everyone.
One recipe I've never seen goes against its healthy version because it's so delicious! With a few small tips, you'll get a perfect dough, an even crust and a specialty cheese, just choose what you want to put on top!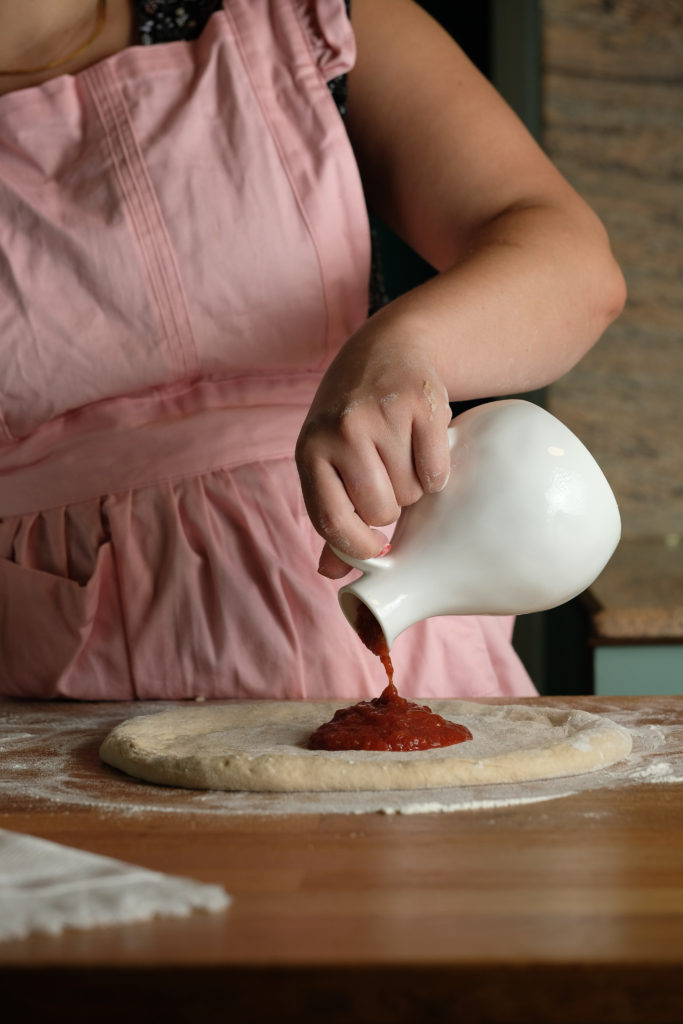 Anyone who follows me on Instagram knows I'm puffing a little something, it takes a little longer but I'm already in the 9th month of puffing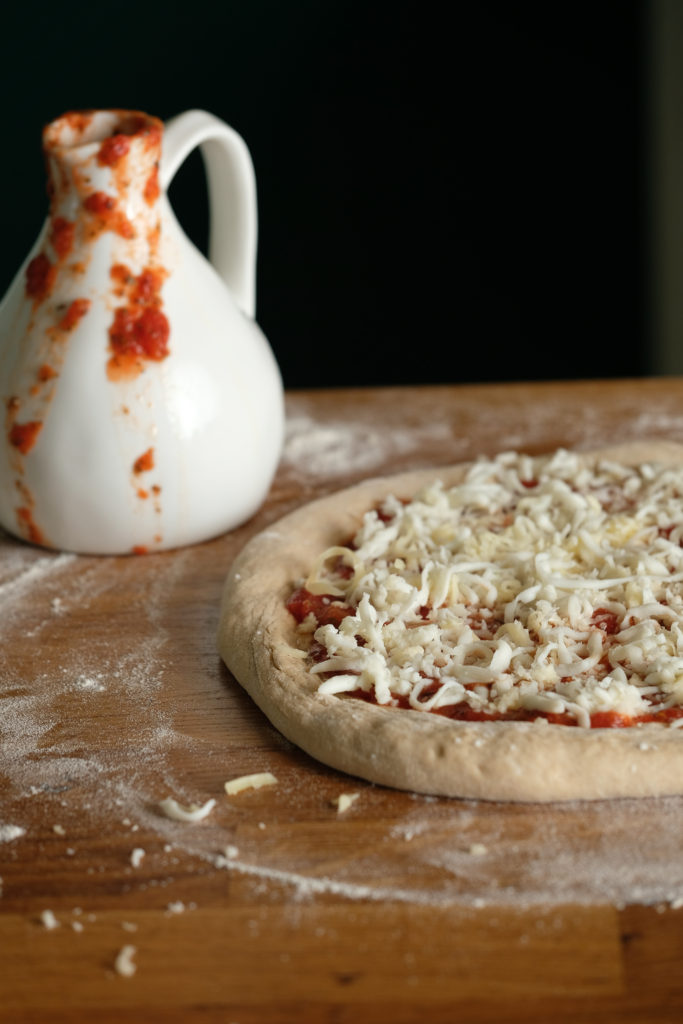 The combination of pregnancy and corona left the world of workshops behind and I decided it was time to release workshop recipes with a lot of love to the blog, my favorite ones that I worked on a lot to develop and improve to be as accurate as possible and show everyone that you can bake in a healthy way without compromising on taste.
Once a month I was having a pizza evening where everyone learned to make homemade pizza that can be made at any home!
There is nothing about wheat flour pizza, in general homemade pizza is an excellent solution, it is also a healthy way to eat a favorite food and also an ideal solution for hosting with us. It always becomes a real activity. Everyone prepares the pizza they like and it's always fun. So I hope you like the recipe and I look forward to hearing how it turns out.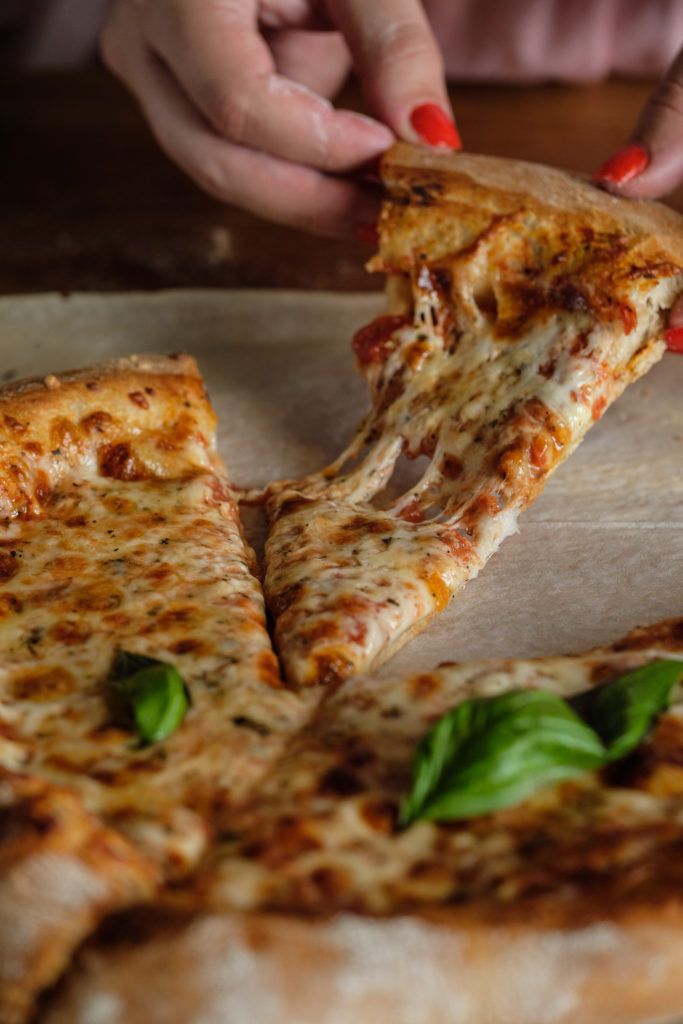 Whole wheat flour pizza

recipe for 2 large pizzas
Pizza dough:
500 g wholemeal flour / whole wheat flour.

8 g (1 tablespoon) dry yeast.

5 g (1 teaspoon) cane sugar.

10 g (1 tablespoon) salt.

30 g (3 tablespoons) olive oil.

300-360 g (1 1-1 cups) warm water.
Tomato sauce :

1 tomato paste (tomato sauce without added sugar and salt).

1 teaspoon dried thyme or basil.

1 tablespoon olive oil.

1 teaspoon garlic crystals.
Cheeses : I recommend based on high-quality mozzarella and combine with another type of cheese you like:


300 grams of mozzarella cheese.

200 grams of Bulgarian or.

200 grams of Parmesan.
Extras:
Cherry Tomatoes / Onions / Corn / Olives / Zucchini / Broccoli / Pineapple / Tuna / Mushroom / Garlic / Pepper / Tomato / Spring Onion / Goat Cheese / Ricotta / Small Mozzarella And So On. basil for serving
How to prepare:
In a bowl with a kneading hook, put all the ingredients for the raw dough, start with a quarter cup (300 grams) of water and put on the lowest speed 4 minutes and check the dough, the dough should be a little sticky, if necessary add another half cup of water.




Keep kneading at lowest speed for another 5-7 minutes.

Transfer the dough to a greased bowl and cover with plastic wrap, leaving enough room for the dough to rise.

Leave to swell for an hour and while you prepare the sauce.

Sauce: Mix all raw ingredients in a bowl and set aside.

Divide the dough into 2 circles for a larger pizza or 4 circles for a more personalized pizza, sprinkle in circles and flour.

Place it on a floured surface to rest for half an hour.

Meanwhile, turn on the oven on the highest heat on the Turbo program with upper heating low and place an upside-down pan in the center of the oven, if there is a pizza stone, it's time to put it on top of the inverted mould.

Open the wide-edged pizza dough.

If you like by pressing the pan to the sides or rolling it in a circle, remember that the pizza is still puffy in the oven, so you should make a slightly thinner pizza for your liking.

Place on baking paper for easy transfer to the oven, spread a layer of tomato sauce in the center of each pizza, and add cheese and toppings.

Using baking paper and another oven tray, carefully slide the pizza into the inverted tray in the oven.




Bake for 20-30 minutes, depending on the size of the pizza, until golden and the cheese has melted.

Remove from the oven, add the basil and serve immediately.
Tip tips:
For those who want to "save" calories, you can switch to yellow cheese with low fat percentages.

It's not a classic pizza but it's still very tasty

You can puff the dough for the first puff overnight in the refrigerator.